About Our Hair Restoration Clinics
At L.A. FUE Hair New York, our mission is to provide natural-looking hair transplant and hair restoration services to men and women suffering from hair loss. Our goal is to find a solution that looks natural, is easy to maintain and restores our clients' hair – as well as their confidence. 
Bringing West Coast Expertise to the East Coast
Through our affiliation with the acclaimed L.A. FUE Hair Clinic in Los Angeles, California, we bring more than a decade of hair restoration experience and excellence to New York and beyond. Our founder and lead hair transplant surgeon, Dr. Anton Georgiev, completed his fellowship training with Jacques and George Abrahamian at L.A. FUE Hair Clinic and now offers the clinic's highly sought expertise to clients on the east coast.
With two state-of-the-art locations, one in Long Island and one in Manhattan, we serve the greater New York area and surrounding states. Clients also travel from other areas of the country and abroad to take advantage of our FUE hair transplant and hair restoration expertise.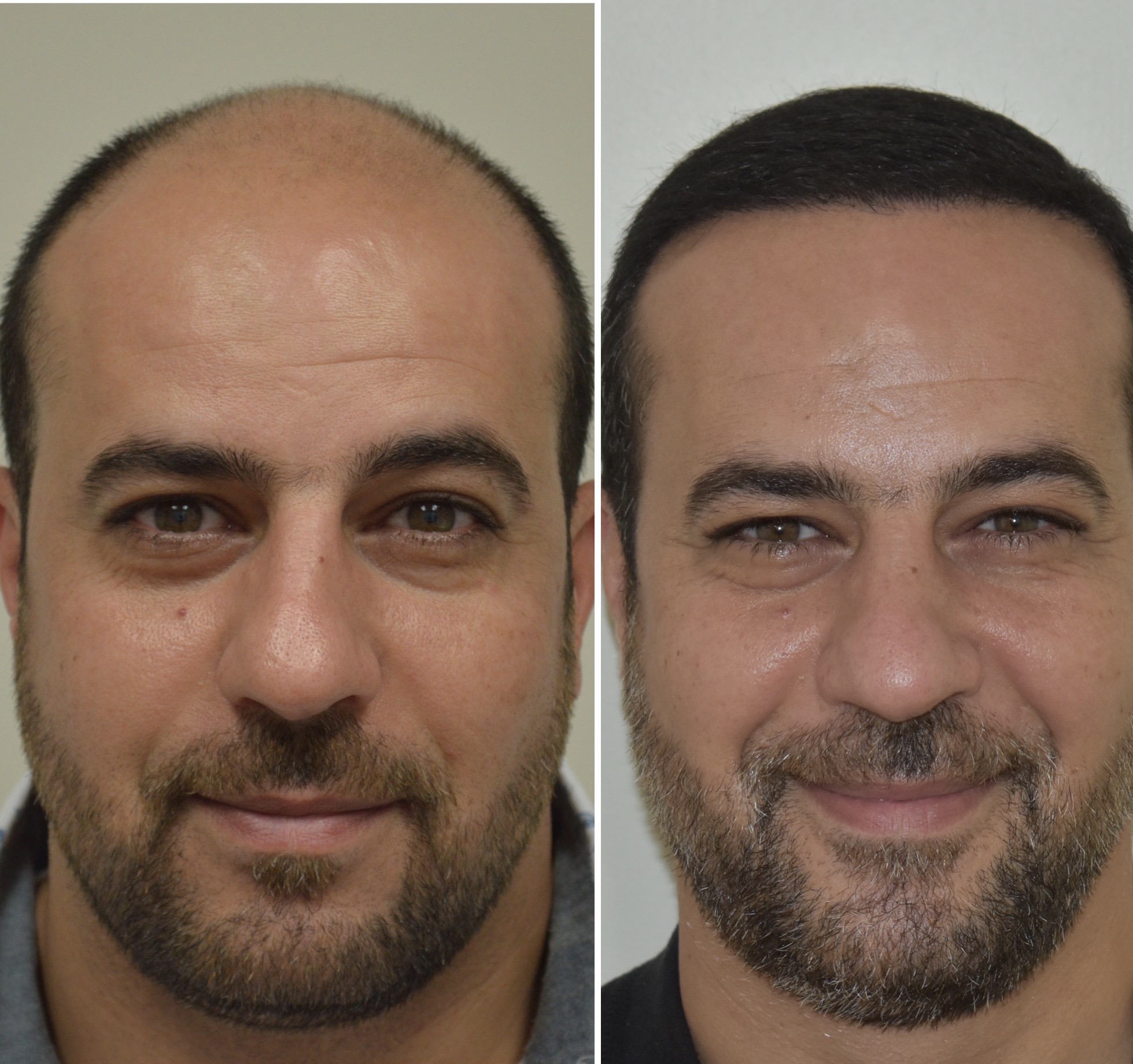 Specialists in FUE Hair Restoration
Dr. Anton and his skilled team specialize in Follicular Unit Extraction (FUE) hair transplants, the most innovative and advanced hair restoration technique in the industry. The FUE procedure provides a natural-looking, custom solution designed to match each client's hair to their face shape and personal style.
In addition to FUE hair transplants, we offer the latest non-surgical treatments for hair loss, including stem cell therapy and platelet-rich plasma (PRP) hair treatment.
We also work with clients who are dissatisfied with results they received at other clinics. With our hair transplant repair services, we are able to help these clients finally achieve the lasting look they deserve.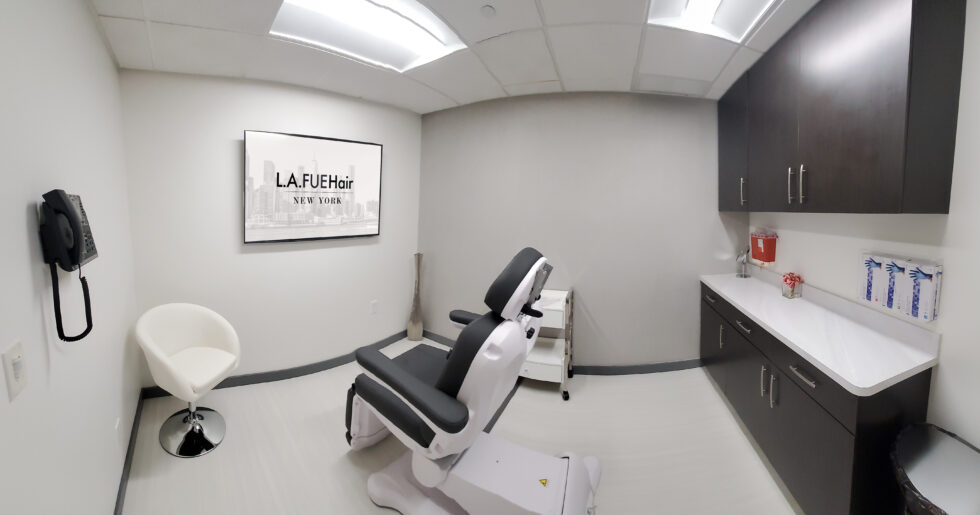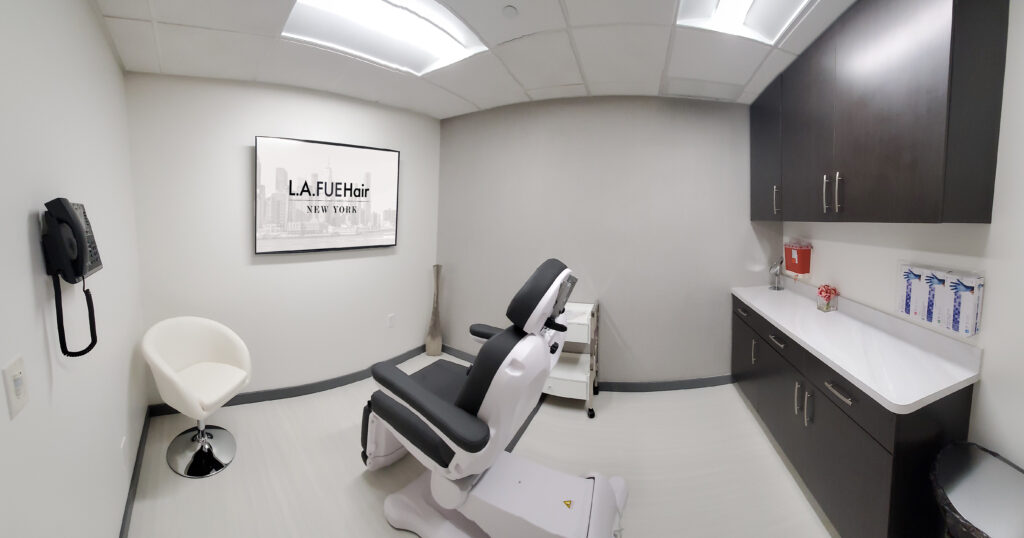 Hair Restoration Experience You Can Trust
We believe that finding the right hair restoration clinic is the most important decision our clients will make. There are many clinic options available, but not all provide the same level of experience, quality and utmost attention to detail. By taking the time to find the right place, you will have the peace of mind of knowing you have invested in a procedure that will give you the results you desire. 
On average, it takes 3 to 4 years of research and consideration before a client decides to move forward with a hair restoration procedure. At L.A. FUE Hair New York, we are dedicated to providing trusted information and expertise to help you learn about your options and make the right decision for you.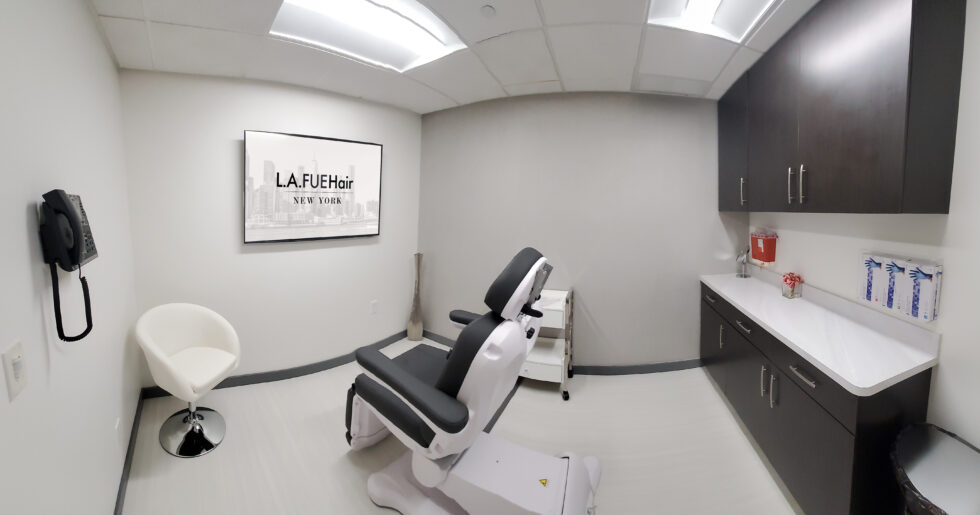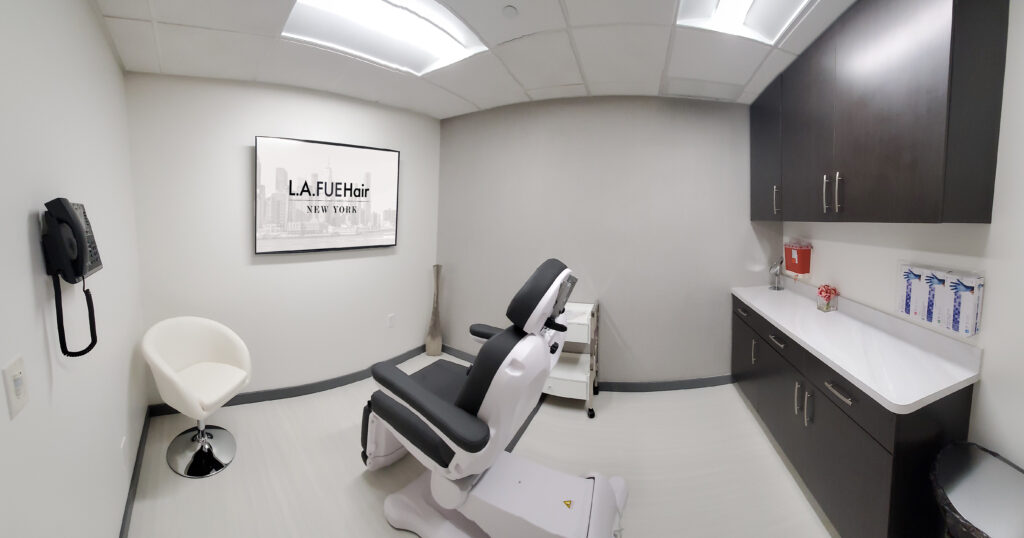 The L.A. FUE Hair New York Difference
At L.A. FUE Hair New York, we are experts at developing personalized treatment plans to address hair loss and help our clients achieve the look they desire. Our dedication to detail and precision ensures that each procedure is done perfectly from start to finish. Our clients are cared for every step of the way, from our initial complimentary consultation through their at-home recovery period. 
We invite you to explore our Before and After Gallery, which features photos taken exclusively of clients from our L.A. and New York hair restoration clinics.
L.A. FUE Hair New York founder Dr. Anton isn't just experienced with FUE from a hair transplant surgeon's point of view – he's also experienced the benefits personally as a FUE client himself. 
My hair loss started when I was in my mid 20s. There were very limited options for hair transplant at that time, and PRP and stem cells were not available.


Hair loss erodes your confidence. It is traumatic and impacted my life in a way that people without hair loss can never understand. I was constantly aware of it.


After I started researching my options, it took me 4 years to decide to move forward, which is the average time it takes someone to research and decide. There is always a question in the back of your mind if the procedure will work on you. I had to be very comfortable with both the type of procedure and the surgeon doing my procedure.

I chose FUE over FUSS (also called FUT or strip surgery) because it offers numerous advantages: less scarring, much quicker recovery, less downtime. And I chose to move forward with L.A. FUE Hair Clinic because of their amazing results, track record, and high level of professionalism and competence.

I was amazed by the transformations shown in their before and after photos. I met the entire team before my procedure, and they were very professional and courteous. The surgeons were very knowledgeable and made me feel at ease and not rushed. They answered all my questions thoroughly.

Moving forward with FUE hair transplant surgery was one of the best decisions I have made in my life. It boosted my confidence, gave me a more youthful appearance, and positively changed the way I present myself to patients, friends and coworkers. I recommend the FUE procedure to anyone who is self-conscious about their hair loss. 
Dr. Anton was so impressed with his FUE hair transplant results that he decided to transition from his role as an experienced board-certified general surgeon to focus on hair restoration. 
I had been struggling with hair loss myself, had the FUE transplant done and it has changed my life completely. I am board-certified in general surgery with over 10 years of surgical experience. After my FUE hair transplant, I completed a 1-year fellowship with L.A. FUE Hair Clinic, where I was trained in the latest and most advanced FUE hair transplant techniques.


During my fellowship, I was able to acquire invaluable surgical skills from one of the most talented hair transplant teams in the country. L.A. FUE Hair Clinic is in extremely high demand, performing FUE hair transplants daily to clients including many celebrities, giving me ample opportunity to encounter a wide variety of hair loss pathology. I had hands-on experience with every procedure and was able to track the progress of my clients from the day of surgery to 12 months post-op.


In addition to the precise surgical work required, I love the artistic aspect of designing the hairline. You have to meticulously design each client's hairline to complement their unique facial features.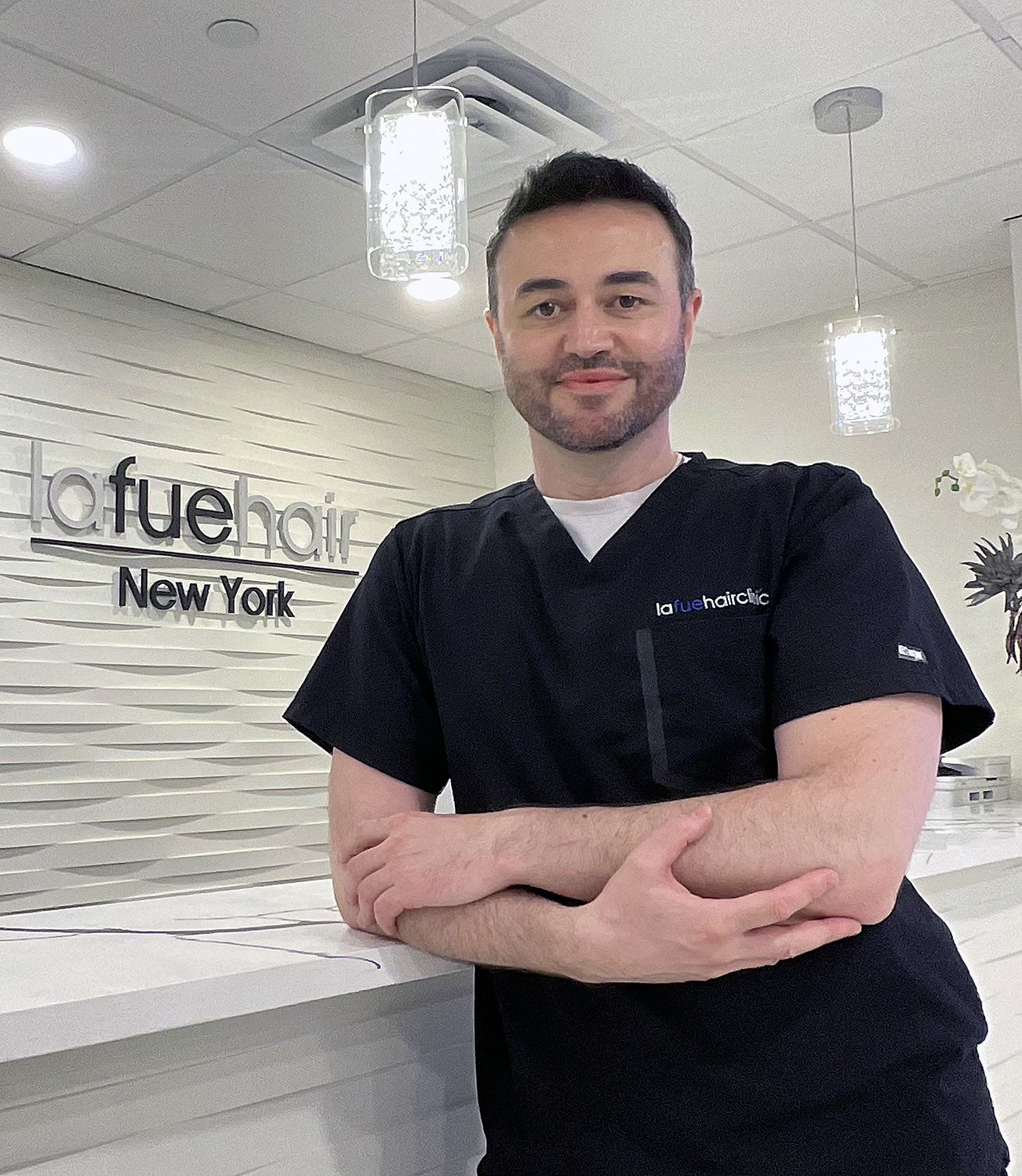 Dr. Anton's Education and Experience
Dr. Anton graduated cum laude with his Bachelor of Science in chemistry, with a biology minor, from Truman State University. He received his Doctor of Osteopathy from Kirksville College of Osteopathic Medicine before completing a 5-year residency at St. Agnes Hospital, a 357-bed acute care hospital in Baltimore, Maryland, which is affiliated with the University of Maryland, one of the busiest trauma centers in the country, and Johns Hopkins University Hospital. 
He then spent 10 years practicing as a board-certified general surgeon at Berwick Hospital Center. During this time, he was also a clinical assistant professor of surgery at The Commonwealth Medical College in Scranton, Pennsylvania, and founder and medical director of Berwick Hernia Clinic.
Following his own successful FUE hair transplant surgery, Dr. Anton decided to transition to focus on hair transplant surgery and hair restoration. He completed a 1-year fellowship at the acclaimed L.A. FUE Hair Clinic in Los Angeles, California, before opening his Long Island hair transplant and restoration clinic. Dr. Anton opened his second clinic, in Manhattan, in early 2023. 
Dr. Anton is a fellow of the American Academy of Cosmetic Surgery (AACS), American Osteopathic Association (AOA), and the American Medical Association (AMA). He is certified by the American Board of Surgery, and holds certifications in advanced cardiovascular life support, basic life support, and fundamentals of laparoscopic surgery. 
About Our Team
Dr. Anton is supported by a team of highly trained surgical technicians. All of our technicians have been specially trained in hair transplant procedures, and each has an average of 5 to 8 years of experience working with patients to provide optimal results.